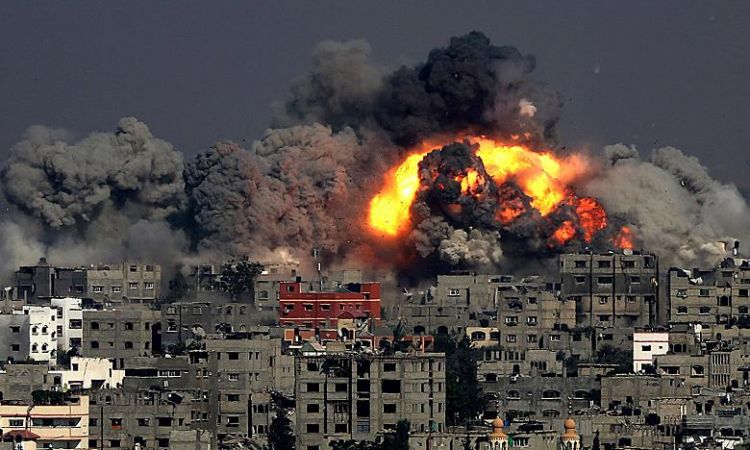 The Israeli Military Operations in the Gaza Strip During the Blockade
During the past 15 years, Israeli forces launched three major attacks on the Gaza Strip: in 2008-2009, 2012 and 2014. Sporadic air and ground attacks occurred in between them.
Operation Cast Lead (2008-2009)
The first of the major attacks started on December 27, 2008, and lasted for 21 days—ending on January 18, 2009. Over the course of three weeks, Israeli forces dropped around 1 million kilograms of explosives on the strip, causing the destruction of nearly 4,100 houses and damaging 17,500 others. Nearly 1,500 (1,436) Palestinians were killed and about 5,400 others were injured, including many children and women.
Operation Pillar of Defense (2012)
This attack started on November 14, 2012, and lasted for eight days, ending on November 21, 2012. Israeli warplanes killed 162 Palestinians, wounded nearly 1,300, and destroyed 200 houses. Another 1,500 homes were damaged.
Operation Protective Edge (2014)
The longest and most deadly Israeli attack on Gaza started on July 8, 2014, and lasted 51 days—ending on August 26, 2014. Euro-Med Monitor's field team documented 60,664 Israeli land, sea and air raids, which killed 2,147 Palestinians (in many cases, involving one family) and wounded 10,870 others. A recorded 17,123 homes were hit, of which 2,465 were destroyed.
Operation Guardian of the Walls (2021)
The attack started on 10 May 2021 and lasted for 11 days, ending on 21 May 2021. The Israeli army focused its air and artillery attacks on the infrastructure of the Gaza Strip, especially streets, water wells, and public facilities, as well as the Strip's economic and productive capacities. As a result, these sectors sustained heavy losses. According to the Palestinian Ministry of Health, the attack resulted in the deaths of 254 Palestinians, including 66 children, 39 women, and 17 elderly people. Additionally, about 1,948 others were injured.